Extra Points - Steelers vs Bengals Post Game Wrap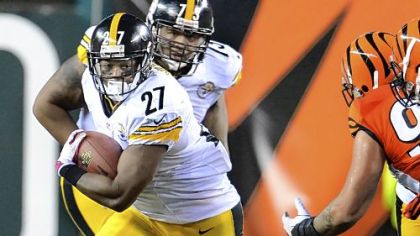 EXTRA POINTS

*Losing Football 101 - The Steelers tried every way possible to blow this game from the opening whistle with numerous self-inflicted wounds. The opening drive Mike Wallace dropped an easy 3rd down catch in the redzone that would have set up a 1st down situation inside the 20. That drop forced them to settle for 3 instead of driving for 7. On the Bengals 1st drive Larry Foote dropped a gift INT, and the defense soon after allowed a 4th down conversion on the way to a TD scoring drive. On the very next drive they blew field position by AGAIN holding on a nice Chris Rainey kick return. That was only one of 5 such penalties during the game.
Blown points - CHECK
Blown turnover opportunity - CHECK
Blown opportunity to get off the field - CHECK
Blown field position, repeatedly, with ST's penalties - CHECK
Fortunately Andy Dalton gave the Steelers a free INT as he bounced a pass off his lineman's head and momentum swung back to the Steelers just before half.

*Captain Brandon Johnson - Mike Tomlin has officially become Rex Ryan with his weekly ST's captain selections. Rex always trots out a player who formerly played for the opponents as captain when he gets a chance. When Tomlin sent Antonio Brown out as a captain against Santonio Holmes and the Jets, I said he did it as a message. Now he sends out former Bengal Brandon Johnson vs Cincinnati. Maybe the Special Teams are so bad, in part, because they have no defined leader. If they really wanted to use the captaincy as a reward for good play, Suisham would be the man hands down. He's been excellent and the team's most consistent player this season.
*No Good in the Hood - Wow did Evander Hood get abused on the first two drives! Twice on the 1st drive he was flat pancaked to the ground right off the snap. At least twce more he was doubled and driven yards out of play for big rushing gains. On 4th and 1 Hood was pancaked again by Smith ending up flat on his back with big Andre on top of him. The Bengals surely seemed to scheme to run the ball right down Hood's throat. He couldn't contend with either Andre Smith or Kevin Zeitler. Once Benjarvis Green-Ellis and Center Jeff Faine went down, the Bengals run game fortunately dried up.
---
GRADES:

OC Todd Haley: I still don't know what to make of this dink and dunk offense. On one hand it keeps Ben upright and moves the chains. On the other hand it does to an offense exactly what the Steelers defense has tried to do to opposing offenses for a decade. Force them to be perfect moving down the field in order to get a TD, and eliminate big plays. Any mistakes stall a drive and forces a FG attempt at best. With a chance to put Cincy away in the 4th qtr up by 7, Haley went run heavy to drain the clock instead of attacking for more points. 3 called runs to open the drive, which ultimately stalled giving Cincy another opportunity to tie the game. It was another typical Todd Haley game all around. His offense racked up a 432 to 185 yardage differential with a T.O.P. difference of 37:30 to 22:30, yet managed only a 7 point difference in scoring. (Grade: B-)
DC Dick Lebeau: Aside from the two drives to open the game, the defense gave up practically nothing. You have to love the decision to take away AJ Green. He is the Bengals offense, and Raggedy Andy Dalton is nothing without him. After getting gashed in the run game early, Lebeau adjusted and sured up the leaky gate that was the left side of his defensive line. Another game that came down to the fourth quarter and in need of protecting a lead, Lebeau's defense forced 5 straight punts to close out this game. After the initial 80 yard drive, this unit allowed only 105 total yards through the final 3 quarters. (Grade: A-)
HC Mike Tomlin: Chasing points again in the first half down by 2? I always hate that decision, even when it works. The team came out sloppy and the Special Teams unit continues to make multiple penalties every week. At some point, Tomlin needs to make a major shake up for that unit. That said, the team adjusted well after it's early debcles and won a much needed road game in the AFC . (Grade: B-)
QB: Ben Roethlisberger Ben had two unforgiveable turnovers in this contest. The interception came on 1st and 10 from the Bengals 21 where he threw into triple coverage in the endzone. There was no reason to force anything in that situation. Live to play another play there. What was even worse was the ridiculous fumble which occurred while he was in the grasp. Ben was grabbed while in the throwing motion, and instead of wrapping the ball up and going down, he started to wind up and pump fake again with no target in sight. This resulted in him banging the football off of the helmet of Bengals DT Devon Still and ended in a fumble and 7 quick points for Cincinnati. Ben's two turnovers resulted in a 14 point swing. That aside, Ben was a surgeon on 3rd downs again completing passes in critical situations over and over. He threaded the needle to Miller for the TD score on an absolute laser of a pass, then showed good touch on the lob pass for the 2 point conversion. (Grade: B-)
O-Line: The line was pretty solid throughout. The left side allowed practically no pressure aside from a late game sack by Johnson. Max Starks remains a huge surprise and tremendous asset to this team as his play has been excellent in pass protection all year. Foster and Colon each were beaten by Atkins, as we expected, 1 on 1 in pass protection. That aside Willie Colon was cleaning clocks in the run game, which was a key factor in the win. Mike Adams was beaten by Geathers off the right edge on the strip(helmet) sack play, and had help in pass pro from Heath Miller quite often. There were instances, such as the first 3rd and 9 play of the game where he was velcroed to the chest of Carlos Dunlap 1-on-1 in pass pro. Adams also made a few nice blocks in the run game. I thought Doug Legursky played a helluva all-around game as well. The O-line's final stat line was 3 sacks allowed, plus 2 tackles for loss, and a run blocking average of 5.8 YPC. (Grade: B)


RB: The backs were in their old form early as they were averaging just over 1 YPC on the first few drives. Then Jon Dwyer got in the groove and rambled off the Steelers first 20+ yard run of the year on his way to an 8 carry 52 yard half. He picked up a huge 1st down on a 10 yard run to drain the clock right at the 2 minute warning, and sealed the game with a big 32-yard run up the gut which put him over 100 yards for the game. He finished with 17 carries for 122 yards. Baron Botch founds a few ways to screw up the game. He botched an easy TD catch on a pass from Antonio Brown which took 4 points off the scoreboard, then pulled a Limas Sweed and faked an injury. He was well enough to take the field soon after and was called for holding on the subsequent kick return. Batch hasn't shown much more that being a good pass blocker out of the backfield thus far. When Redman and Mendenhall come back, how can you deactivate Dwyer in favor of Batch? Chris Rainey FINALLY busted a play from scrimmage for more than 10 yards and a TD on his 4th QTR 11-yard scamper up the gut. Will Johnson got a FB draw of 5 yards in the 4th QTR, a rare carry from a Steelers FB. (Grade: B)
WR/TE: Mike Wallace DROPPED an easy 3rd and 9 on the opening drive potentially killing 4 points as the Steelers were forced to settle for a FG. He redeemed himself by dropping a big gainer on the 1st play of next drive, and had a tipped pass bounce off his chest in the endzone just before half. On a key 3rd and 11 late in the 4th just about 5 yards outside of FG range, Wallace again drops a quick slant that would have picked up 6 yards or so. It was another horrible showing for a big play receiver in a contract year. Not that Haley is using Wallace properly. Why turn your Ferrari into a mail truck? The fastest WR in the game gets 8 catches for 6.5 YPC and never gets thrown a deep ball once? Antonio Brown made the most of his every touch, breaking tackles, fighting for yards, and coming up clutch on 3rd downs. Just Antonio being Antonio. The Steelers surely paid the right receiver. Brown caught 7 of 8 balls thrown his way for 96 yards. Cotchery and Sanders each chipped in with key 20+ yard gainers, and Sanders wisely faked an injury to buy Ben more time to recover from an injury of his own on a 3rd down situation. Heath Miller reeled in a TD, a 2-point conversion, 5 other passes, and blocked pretty well in both the pass and run games. 'His Name Is David Paulson' again chipped in with a 7-yard gainer. (Grade: C+)
D-Line: McClendon, Hood, Keisel, Heyward, and Woods all rotated in the game a fair amount from the early going on. No good Piggy Hood got abused as I outlined above in the run game. Aaron Smith never got abused by a double team in his entire career the way Hood did multiple times in this game. He rebounded a bit with 2 tipped passes and 4 assisted tackles. Cam Heyward fared a little better, but was certainly not meeting the standard set by Aaron Smith to be sure. I'd like to see Steve McClendon mixed in the rotation a bit at LDE. Casey Hampton was so-so, but finally made a big play in the backfield as he abused the Bengals 3rd string Center. Brett Keisel tallied 1 measly assist, and the one time he got pressure on the QB he failed to get his arms up in time or he would have easily batted a pass at the line. (Grade: C-)
LB: Timmons led the way with a quiet 11 tackles, and Larry Foote added 7 more. Timmons had some good coverage on TE Gresham, but also was beaten once or twice. Foote also dropped the gift INT detailed above. Woodley got some good pressure early in the game, but couldn't close the deal for a sack. This was the best he's looked all season in my eyes as he was explosive off the edge. Andy Dalton typically didn't hold the ball very long, which is probably why he didn't register a sack. Lamarr also was gifted a flukey INT on a ball Dalton threw off his RG's helmet. That play a defender jumped the route which forced Dalton to try and pull the ball back in mid-throw. It resulted in the ball slipping out and winding up in Woodley's arms.
There were nineteen different Steelers who recorded tackles in this game, yet none was named James Harrison. He had a couple of pressures, but made little to no impact. NBC did a nice cut-up of him showing how much more upright he is when rushing the passer on that gimpy knee than he was in seasons past. That aside, Harrison had opportunities to make plays from the backside in the run game, but made half-assed weak arm tackle efforts instead of exploding through the ball carrier. This was easily the worst performance of his career. (Grade: C)


DB: Curtis Brown got a lot of work in the slot, and was beaten for a few 3rd down conversions. I'll assume they figured he was their best match-up for the little jitterbug Andrew Hawkins in the slot, who reeled in just 2 passes. Keenan Lewis made a break up on a deep ball for AJ Green, provided more solid run support, and was very good in coverage. He played a good amount of man coverage which allowed the secondary to help Ike Taylor with AJ Green. Lewis is really rounding into a pretty good player. Ike Taylor had primary duties on AJ Green and held his own with help over the top some, but not all of the time. Ike gave up the 8 yard TD pass, that was it.
Ryan Clark broke up a deep ball to AJ Green and was as reliable as ever. Will Allen was solid again in relief before being injured. Ryan Mundy didn't find a way to lose this game, or register any meaningful plays. (Grade: A)

STs: Penalties on the 3 straight kick returns is simply inexcusable, yet par for the course for this defective unit. Baron Batch was a culprit once, and Demarcus Van Dyke was yet again called for a ST's penalty. He's become a liability out there and this call flipped field position 33 yards and ultimately set up the strip sack and Bengals TD. Antonio Brown had another great effort on a run back inside the Bengals 40 in the 3rd QTR that was wiped out by a hold on Ike Tayor. Throw in a Curtis Brown holding call on a punt that wiped out a 15 yard kick catch interference call on Cincy and you have a nice balsamic dressing for your shit salad. Antonio Brown and Chris Rainey each ripped nice returns, but many of them were wasted. Then there was the coverage units that allowed Brandon Tate to run the ball out to near the 40 yard line on each of the first two returns to open the 2nd half. Suisham has been one of the shining stars this season. His kicks of 42, 47, 42 were all perfectly hit right down the middle. Hey Mike Tomlin, why not send him out as captain of this unit instead of Brandon Johnson? (Grade: D-)
Refs: Possibly blew a requested timeout call on the 2 point conversion attempt before half, but I'm not sure if Ben was asking for a timeout there or not. Had he been, they should have granted it. This crew wasn't laying laundry all over the field and weren't tossing Pass Interference flags out like candy. I can live with that. (Grade: B)
---
AWARDS:
Game Balls: Antonio Brown was the spark plug for the offense. Every time he touched the ball he made something positive happen. Suisham was perfect again on field goals in key situations. Jonathan Dwyer ran like a man possessed on his way to the Steelers 1st 100 yard day by a back since last December. Ike Taylor's play was a hot like sauna. He was all in on AJ Green, like head first (If you don't get that reference, I suggest you check out Ike's rap video.) Congrats to AB, Suisham, and Ike T. for earning our SteelerFury Players of the Game.
Goat Balls: The Steelers got a much needed road win in the AFC, so I'm not going to go negative on anyone tonight. (even though Mike Wallace really deserves it.) Instead I will defer to one of my usual whipping posts and take a shot at ESPN. After a busy Sunday with the family, I came home with just enough time to try and get caught up on who won the early games before settling in to watch the Steelers play. A quick look at ESPN.com and I found myself baffled by one score update. The "Worldwide Leader in Sports" never lets me down!
---
FINAL WORD:
The Steelers sit at a very mediocre 3-3 seven weeks into the season. That' the bad news. The good news is, the entire AFC is very mediocre at this point and three teams in the entire conference are above .500. Two of those teams, New England and Baltimore, look very beatable. If the Steelers get healthy, who would you really fear in a playoff game? Houston for sure as they are the class of the division, and a road game in Denver wouldn't be very favorable. That is about it. This team just needs to get healthy and earn a ticket to the show. We've seen teams get hot late and wind up winning the Super Bowl quite often in recent years.
A home game against an up and coming Redskins game followed by a road game at the defending Super Bowl Champion New York Giants await in the next two weeks.