Fireside With Fury
Rocky Bleier Enshrined. Rocky Bleier is enshrined again but this time it is in the Pentagon for his actions in Vietnam and heroics on the playing field instead of the battlefield. The Pentagon is full of different corridors that resemble museums. Most corridors are dedicated to something like MacArthur, the Anzus Treaty, POW/MIA, or the military in humanitarian support. Recently, a new corridor was added called the Wounded Warrior corridor. Rocky was a famous wounded warrior after his leg and ankle were heavily damaged by small arms fire and grenade fragmentation in Vietnam. He had been drafted to go war but was also a member of the Steelers at the time he was wounded. Bleier was told that he would never play football again and ended up defying all odds but gaining significant playing time and was a major part of the Steelers' first four Super Bowls. The Bleier story (his book) was also made into a television movie, Fighting Back. Congrats Rock.
Airing it Out. Old Dominion University (ODU) in Norfolk, VA is known for being close to some world class fishing in the Chesapeake Bay more than football. ODU recently resurrected their program in 2009 and they play in the old Division 1-AA or FCS level in the Colonial Athletic Conference. Yesterday the Monarchs played the University of New Hampshire and ODU QB Taylor Heinicke passed for an amazing 730 yards in route to a 64-61 victory. Heinicke's performance set the all-time NCAA Division 1 record for passing yards in a single game. Taylor completed 55 passes out of 79 attempts with five touchdowns and zero interceptions. Surprisingly, Heinicke's performance is not the all-time NCAA record. The Division III record for passing in a single game is 736 yards. The ODU Monarchs currently have two defensive linemen playing on the NFL, Ronnie Cameron - Cleveland Browns and DL - Edmon McClam - Detroit Lions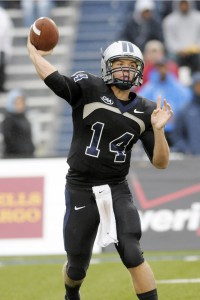 A Dominant Nation, if it was a Nation. I posted this stat earlier in the week in the General Discussion forum. I like stats/facts and figures and I thought this was pretty cool. If the University of Southern California was its own separate nation, USC would have finished 11th in the medal count by country in the 2012 Summer Olympics. USC had 24 medals. The top five colleges with Olympic medals from London are:
1) USC-24
2) Florida-21
3) Univ. of California-17
4) Stanford-16
5) Univ. of Texas-13
Penn State led PA schools with 5 medals. Other PA colleges with medals include: Univ. of Penn, Drexel and Villanova each with one medal.
The Bye is Looking Better. When the 2012 schedule was released, I didn't like the Steelers getting their bye during week # 4. I would have preferred it later but this may end up being a blessing in disguise. This team is dinged up and while only two players are on injured reserve (DeCastro and Spence) the injuries are adding up. We have yet to see Harrison or Mendenhall. The walking wounded list includes five that did not practice on Thursday (Steelers.Com hasn't updated their Friday practice part of their web-site): Adams (back), Harrison (knee), Leftwich (illness), Miller (Abdomen) and Polumalu (calf). Others that are dinged include Wallace, Dwyer, Sanders and Gilbert. If the injury report sounds pessimistic, check out the Raiders. They have ten players that are either out or questionable after Friday's practice. The Raiders also list six players on injured reserve (one designated to return) and one player on the Physically Unable to Perform list.