Scouting the Zebras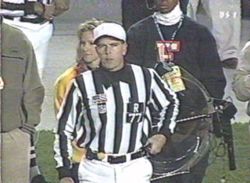 Terry McAulay and his crew will be in charge Sunday night as the Steelers take on the Ravens in Baltimore.
(Unfortunately over the past few weeks, officials have injected themselves into Steelers games at a disproportional rate. Thus, a pre-game scouting report of each week's officiating crew will be conducted. Normally, referees do not like to be seen. A measure of a good crew is when the final second ticks off the clock in the 4th quarter, nobody remembers that they where even there. Referees in recent Steeler games have become household names; which is a shame.)
Terry McAulay-#77
Umpire: #121 – Paul King
Head Linesman: #98 – Greg Bradley
Line Judge: #84 – Mark Steinkerchner
Field Judge: #43 – Terry Brown
Side Judge: #72 – Michael Banks
Back Judge: #12 – Greg Steed
Replay Assistant: Earnie Frantz
McAulay is one of the more experienced and regarded officials in the country and is in his 10th season as a NFL referee (crew chief).
He has high school experience calling prep games in Maryland , yes Terry resides in Maryland. He officiated college in the ACC and was the referee in the 1998 National Championship game between Tennessee and Nebraska. McCauley is also the Coordinator of Football Officials for the Big East Conference. Ex-VP of NFL Officiating, Mike Pereira (McAualy wears Pereira's number 77), scouted McAulay during college and decided to bring him up to the NFL for the sole purpose of making him a referee.
McAulay joined the NFL ranks in 1998 as a side judge working on current referee Walt Coleman's crew after some NFL Europe training and evaluations. During that time he worked one NFC Championship game. McAulay was promoted to referee in 2001. As a referee, McAulay and his crew have officiated five conference championships (including the 2005 AFCCG between Pittsburgh and Denver) and two Super Bowls. SB XXXIX in 2005 between the Patriots and the Eagles and SB XLIII in 2008 between the Steelers and the Cardinals. In 2008, McAulay was rated by the NFL as almost 99% accurate, the highest rating amongst his fellow officials. During SB XLIII, his crew threw the yellow flag 20 times.
McAulay is a household name in Cleveland. He was the referee in the famed "Bottlegate" game against the Browns and Jaguars. Due to the amount of bottles and hoopla coming from the Dawg Pound, McAulay called the game over. Commissioner, Paul Tagliabue, overrode his decision to terminate the game and the teams finished the game ½ hour later.
http://www.youtube.com/watch?v=DQjaPVwmnAM&feature=related
Some Stats or Tendencies with McAulay's Crew:
Defensive Pass Interference:
2008: 7
2009: 11
2010: 10
Total: 28 (The highest amongst referees for this time period is 40 by Hochuli and Corrente)
Roughing the Passer:
2008: 2
2009: 4
2010: 2
Total: 8 (The highest amongst referees for this time period is 14 by Hochuli, Corrente and Riveron)
In 2009 (through 10 weeks), McAulay's crew averaged 14.3 penalties per game which was middle of the road for all crews (average was 14.6 penalties per game) with the highest being 19.8 by Walt Whitman's crew.
In 2009, McAulay's crew through 10 flags for offensive holding going into December. The most was Ron Winter and Walt Anderson with 20.
During the 2008 Divisional Playoffs between the Ravens and Titans, McAulay's crew penalized the Titans with three personal fouls within the first 21 minutes of the game. That game had two (according to the Titans) questionable calls including a no-call for a safety on Flacco and a no-call after the play clock reached zero resulting before the ball was snapped which resulted in a Flacco to Heap 23 yard reception.
In 2007, a website tracked officiating stats and McAulay led all crews with a 75% home team win rating. In 2008, his home team win percentage was 67%
In 2006, McAulay's crew penalized the home team 119 times and the visiting team 120 times. Those penalties resulted in two scores being negated and 13 first downs being negated.
McAulay is originally from Louisiana and graduated from LSU. As mentioned above, he is now a resident of Glenwood, MD, just outside of Baltimore.