Steelers vs Jets Post Game Wrap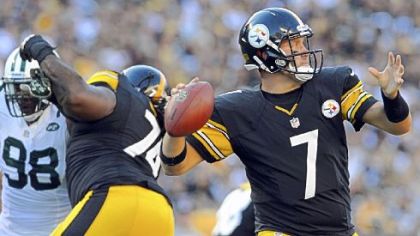 EXTRA POINTS

*Captain Antonio: Antonio Brown was named captain for his game. One could assume it was because he's earned it with his strong play and work ethic. Or you also could make the case that he was named a captain of the Special Teams since one was lacking. Or you could make the leap that it was done as in part because Antonio Brown is the guy who replaced Santonio Holmes, who just happened to be in the stadium that day. It is not uncommon for coaches to name a player captain when they go up against their former team. Rex Ryan does it religiously. I think part of it might just be some chest beating over how the gamble that Rooney/Colbert/Tomlin made to deal Holmes to an AFC rival for a low 5th round pick paid off. If you didn't already know, this game cemented it. Brown is just like Holmes as a player, except with more reliable hands, a better work ethic, and no THC addictions. Antonio > Santonio in every way.

*Is Todd Haley using TOO many personnel groupings? I think I counted about a dozen different groupings in the first quarter alone. It's hard to get any continuity or rhythm going when you are shuffling players that much. Even Antonio Brown and Mike Wallace aren't immune to coming off the field from time to time. I'm not opposed to mixing it up in the slightest, but maybe they ought to get great at a few things before they try to be good at everything.

*Stat of the Day: When the Steelers took a 20-10 lead after the Ben to Wallace TD pass, the Steelers offense had exactly 15 runs and 15 passes. Those runs netted 1.5 yards per play while the passes averaged 10.3 yards per play. Despite the horrid performance in the run game, the Steelers again managed to win the TOP battle 36 to 24.
*They say if you have TWO ROLB's you don't have any: Is anyone a fan of OLB by committee approach? Lebeau continued to rotate his ROLB by series between Chris Carter and Jason Worilds. As November approaches we all realize the decision between turd sandwich and giant douche is a tough one, but at some point you just gotta pick a man and stick with him. Let somebody develop with a full game under their belt. If neither stands out, you know you need to address this spot in the draft.

---
GRADES

HC Mike Tomlin: Tomlin called this "redemption week" and used it to redeem back to back losses on the road against Denver in his last two outings. Perhaps they even got redemption against the mighty Tim Tebow, though he gashed them again in limited snaps. Tomlin's most notable coaching moments during the game were the play where he wisely called timeout when he saw Tebow lined up out wide on a punt attempt, and a play later when he seemed to bait the refs into the illegal touching call. I never saw a flag thrown on that play, but Tomlin was clearly negotiating with the refs for the call. The team seemed prepared for the Jets and played at a high level. That reflects on the coach and the week of preparation. (Grade: B)
OC Todd Haley: First a few personal notes to Todd Haley:
1. Don't run an injured fatback on a slow developing sweep play to the sidelines anymore. Unless of course, losing 9 yards is the stated goal of said play.
2. On 3rd and medium when you have the opponents 4th string CB lined up man to man on one of your Pro Bowl WR's, don't call a gimmick reverse, throw the rock.
3. Everyone knows you are going to run on 1st down. Mike Wallace is really fast. Why not mix in a play action pass deep to Wallace on 1st down once in a while. Best case, you score. Worst case, you open up some running room for future 1st downs.
4. Ben is the chosen one, and there is a reason why Isaac Redman and Jon Dwyer lasted as long as they did in the draft. Stop entering your Ferrari in tractor pulls, and start entering some drag races. Hurry up and the passing game are your forte, embrace it.
Those select bitches and gripes aside, Haley called a pretty good game. He ran it enough to keep the threat of a run in the Jets minds, yet spread it around enough in the passing game that the Jets couldn't get off the field or key in on any one player. (Grade: B)

DC Dick Lebeau: And a few notes for Dick Lebeau:
1. You know you have your top pass rusher on the shelf for the first month of the year, yet you rarely dial up DB blitzes?
2. You removed your other premier pass rusher, Lamarr Woodley, from the field in the nickel package at least 3 times by my count. If anyone has a decent explanation for this I'd love to hear it.
Now to his defense, Lebeau is working with a greenhorn secondary. Mundy, Lewis, and Allen are still learning the ropes, and we all know the leading pass rusher James Harrison is missing. Still, Lebeau has been playing very conservative, and the creative blitzes he is known for have been too few and far between. In this game he abandoned the soft zone coverage after two easy drives by Sanchez and the Jets, and went to more bump and run. This resulted in Mark Sanchez falling apart and the Jets offense being shut down for good. After the first quarter the defense was able to put the clamps on Sanchez and the Jets offense, and that was in large part thanks to the press coverage Lebeau used. He let his corners challenge the Jets receivers, and they won that battle. Sanchez had a 3 yard per attempt average against the press coverage. Rex Ryan even complimented the Steelers CBs ability in the press after the game. When is the last time you heard that? This change, mixed with some blitzes created positive results. Nice job adjusting by Lebeau. (Grade: B)
QB: Ben is often so efficient, that I think a lot of Steelers fans take for granted how good #7 really is. In this game he went 9 for 11 on 3rd downs including a TD to Wallace. That is just ridiculous efficiency on the most crucial down. Ho-hum, just another day at the office for Ben. He single handedly kept drives alive on 3rd downs and moved the chains each of the last two weeks. When Rex Ryan dialed up a blitz that sent a free rusher into the backfield in this contest, Ben calmly side-stepped them, kept his eyes down field, and made big plays. Roethlisberger was money in the first half connecting on 13 of 16 for 148 yards and a TD. Much of that yardage came on 3rd and unfavorable situations (again). Facing 3rd and 16 with a free blitzer in his face, no problem. A quick scramble with eyes locked deep down field and a perfect pass to Wallace in the corner of the endzone for a big score. (Grade: A+)
RB: Redman and Dwyer did nothing for 3 1/2 quarters. They had few holes, but didn't hit the ones they had very hard. Late in the game each made nice plays to extend drives with second effort runs after contact. When they had to run the ball, they found ways to get the necessary yardage. Still, through two weeks the backs have an embarrassingly low YPC average. Baron Batch made some nice blitz pickups in limited duty. Will Johnson missed some blocks in the run game, but added a nice 26 yard catch and run. His athleticism is intriguing as his lead blocking is lacking. Rainey dropped a poorly throw screen pass that could have gone for a big gain. The explosive Chris Rainey has 6 touches for 12 yards through two weeks. Who would have guessed that after his big preseason? (Grade: D+)

WR: Antonio Brown led the way with 7 catches for 79 yards including a tough grab of a high toss over the middle where he managed to hold on to the ball despite a huge hit. Mike Wallace added in 74 yards including the 37 yard TD grab where he miraculously got the second foot in bounds, sideways. Cotchery chipped in with a tough grab over the middle that set up 1st and goal, and Emmanuel Sanders was in the mix with a few timely grabs. Heath Miller and Leonard Pope left a lot to be desired as run blockers, but Miller made his presence felt in the passing game and in the redzone for a score. (Grade:A)

OL: Again they allowed 3 sacks and only managed to clear the way for a 2.4 YPC average for the backs in the run game. One of those sacks didn't really count against the line as Ben took a dive when the Jets diagnosed and blew up a designed screen play and he had no options but to go down. Starks struggled with Jets DE Wilkerson in the run game and made no-name OLB McIntyre look like a Pro Bowler. It was a decline in play from his week 1 performance to say the least. Marcus Gilbert fared well in pass protection, but was flagged for holding once. He did refute FC's claim that he indeed has a vagina as he rolled around on the ground late in the game in agony after taking an apparent shot to the nut sack. Maurkice Pouncey struggled a bit again with power up the middle and drew a snap infraction penalty. He always looks like an All Pro when out on a pull, but I still think he needs some sand in his pants as he looks closer to 295 than his listed 305. It might serve him well to bulk up a bit before next season. Willie Colon whiffed on a number of plays and was useless when pulling. He did clear some holes when he was just asked to line up and push the man in front of him. Ramon Foster had a solid, yet unspectacular game which is par for his course. We didn't have to see Legursky, HOORAY! (Grade: C)

DL: Keisel the Diesel looks like Aaron Smith did when we first thought he might be done as a pro. He played the part of bowling pin to D'Brickashaw Ferguson in the run game multiple times. Ziggy Hood was back to being the invisible man as he recorded a solo tackle with no pressures or sacks. Hampton got handled a bit by Mangold early, but bounced back as the game progressed and he began to clog the running lanes. Cam Heyward came in and recorded a sack to seal the win, and played pretty well in relief of Keisel throughout the contest. Steve McClendon chipped in with a few tackles, but again failed to flash like he did in preseason. (Grade: C)


LB: Timmons drew a personal foul on 3rd down by drilling Sanchez to the upper body area as he released the ball. I think he made a good hard football play, though the hit may have been a bit high. I have a hard time docking Timmons for this play. Before anyone else bangs Timmons for this play, look at Sanchez's stat line for the rest of the game after that hit (6 of 21 for 69 yards). Sometimes one big hit to a QB makes all the difference in the world. Especially one of those soft, left-coast types. Timmons did create some pressure on blitzes, blew up a run play in the backfield, and deflected a pass in coverage. Larry Foote's fountain of youth play continued early on before he limped off with a leg injury. Lamarr Woodley's pass rush looked strong as he bull rushed his way in for a sack, created a few more pressures, and unleashed a spin move that I don't recall seeing from him before. Carter and Worilds platooned at ROLB for the Steelers as they seemed to rotate series for series the entire game. Neither did anything rushing the passer, Carter did record a couple of tackles while Worilds was kept off the stat sheet. Brandon Johnson filled in adequately for Foote in spot duty. (Grade: B)

DB: It looked like blown assignment between Cortez Allen and Keenan Lewis on the long pass play to Kerley in the first quarter as the receiver was passed off with nobody there to pick him up. That will be a play we'll have to look at once the All 22 film comes out later this week. Ike Taylor chalked up two pass interference calls against Santonio Holmes in first half, as well as allowing a TD pass to his former teammate. Taylor was called for a ridiculously bad PI call late in the game where he literally never touched the receiver. Aside from a few early plays, Taylor put the clamps on Holmes and kept him from being much of a factor in the game beyond the opening quarter. Ryan Clark was all over the field in run support and in deep coverage as he laid some nice licks and defended a few passes. I think fans are finally begriming to appreciate how good and how important Clark has been to this defense over the last handful of years. Ryan Mundy played a solid game, including a big hit to RB Shonn Greene which seemed to concuss the runner. Mundy getting the start in this game leads me to ask the following question: If Mundy is the top backup at FS and SS, then what is the point of Will Allen on the roster? You can certainly get a younger (and cheaper) player to develop and play ST's.
Did last week's rookie sensation Stephen Hill play in this game? Mostly Keenan Lewis and some Cortez Allen coverage limited the rookie to 0 catches on 2 targets. This unit did blow a few tackles, especially on the Tebow wildcat drive, and drew a handful of flags. Some of those flags were unwarranted, however. (Grade: B)
ST: The 27 yard average on returns by Joe McKnight was too much. He looked close to busting one a few times. Suisham needs to get that ball deeper on kick-offs, but he was perfect on FG and Extra Point attempts. The Steelers return game did little aside from Rainey and Brown each returning a punt for 10+ yards. Butler punted 3 balls inside the Jets 20, and had a solid 41 yard average. Demarcus Van Lesbian made a few nice plays again on 'teams' including a hurry of Kerley which led to the muffed punt catch and turnover. Speed kills in many ways apparently. (Grade: B)

Refs: They mostly made the right calls throughout the game with a few exceptions. The horrendous PI call against Ike Taylor where he never touched Holmes, and the play Rex Ryan challenged on the Redman fumble probably should have been ruled down in the backfield come to mind as botched calls. The bigger issue was their indecisiveness from the late 3rd quarter on in regards to making calls. There were about a half dozen flags thrown over the course of 10 plays and each brought a drawn out and confused huddle by the crew. Their inexperience showed, and late in the game they were way too loose with the PI calls (Grade: D)

---
AWARDS
Game Balls: Ben Roethlisberger is the chosen one. That is all. On defense, Ryan Clark made his presence felt as he came back to the starting lineup after a week off. Clark set the tone in the secondary and upgraded the pass defense. Congrats to Roethlisberger and Clark for earning our SteelerFury Players of the Week.
Goat Balls: Rex Ryan coached to lose. When you get the ball beyond your own 30 with over a minute remaining before the half, down by 3 points, with 2 time outs in your pocket, and run two dives into the line you are coaching scared. When you have a unique weapon like Tim Tebow on your team and you fail to use him on a fake punt or mix him in for more than one series when your starting QB is struggling, you suck. He had the chance to take some shots late in the game down by 17, but rather chose to tuck tail and go home.


---
FINAL WORD

Getting through this opening stretch of the season with a 2-1 record, I have felt, has been the goal all along. Starting the year without Mendenhall, Harrison, Clark, Decastro, Spence, Saunders, and now Polamalu is a lot to overcome. Combine that with the adjustment to a new Offensive Coordinator and essentially two new starters in the secondary and you have a lot of turmoil. Mike Tomlin made a comment before the season that this veteran laden team was a "work in progress". I think we all expect this to be a much better team in week 17 than it is in week 1. With the lowly Raiders and the choking dog Carson Palmer up next, the Steelers are primed to come out of the bye firing on all cylinders with a full compliment of players and a winning record. With a fairly soft schedule upcoming, it would not be surprising to see this team climb to 6-1 or 5-2 heading into New York to face the Super Bowl Champion Giants in week 9, so long as the injuries stay away. Though many are trying to pound nails into their coffin, expect this team to be in the mix for a run at a title all season long.