Steelers vs Raiders Post Game Wrap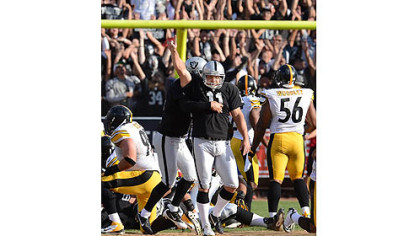 EXTRA POINTS
*Six Drives: The Raiders had six offensive drives from the 2nd quarter through the end of the game. On those drives they scored 3 TD's, 2 FG's, and were forced to punt only once. The vaunted Dick Lebeau defense simply could not get off the field against a Raiders offense made up of a washed up QB, a bunch of 1st and 2nd year players at wide out, and a mediocre offensive line. Simply a disgusting performance by the defense. Worse yet, practically every defensive draft pick from the past 5 years sucked or did nothing. Timmons, Woodley, Carter, Worilds, Hood, Heyward, Allen, Lewis, Mundy, Brown all have been low impact to below the line players thus far this season. This is a defense hat has nothing to hang it's hat on. It no longer is good at stuffing the run. I doesn't have great coverage or ballhawks in the secondary, and the pass rush is non-existent. They are mediocre at all levels.

*How To Lose To Inferior Opponents: Splash plays, turnovers, and penalties is always the formula. ALWAYS! In a game where the Steelers dominated the total yardage by 112 yards and the TOP by nearly 13 minutes, they committed 7 more penalties, had one more turnover, and allowed the only splash play of 25+ yards in the game on the McFadden 64 yard TD run. When you give a lesser opponent unwarranted life time and time again, you almost always lose.

*Speaking of Splash: The Raiders sprung McFadden for a 64 yard TD run. Last week Jeremy Kerley had the 45 yard reception, and in week 1 Demaryius Thomas had the 71 yard score. Too many big splash plays are being made on this defense. This week the Steelers dominated the yardage and TOP battle, but allowed a 68 yard TD run and committed two poorly timed turnovers. The Steelers one big splash play, the AB punt return, was wiped out via penalty. Ultimately the biggest difference in the Steelers defense is the lack of a timely 3rd down sack, a strip sack fumble, or a big INT late in the game. The types of plays have been typically made by Troy Polamalu and James Harrison are now non-existent with them out of the lineup. This shows the serious lack of play makers on the defense. Huge investments made to Timmons, Taylor, Woodley, two first round picks on the D-line, and a 2nd round pick spent on Worilds have resulted in little impact. Jason Worilds is an utter failure as an impact pass rusher.
*Football On A Diamond: It is just painful watching a football game on a baseball field. In a multi-billion dollar industry like the NFL, there is no excuse for a franchise to share a field with a MLB team. Get your own field or move to L.A. I saw at least a dozen plays where players slipped on that dirt and potentially altered the outcome of the play and the game. When you have to strategically take a loss on a run play at the end of the game so your kicker can attempt a field goal from grass instead of dirt, you have an amateur problem in a professional game.
*Player Safety: It's bad enough the NFL still has its players play games in a stadium that is covered by an infield, but chop blocking an engaged defender is just ridiculous. Clitoral... errr Evander Hood was engaged with an offensive lineman when he got his knee blown up by another offensive lineman intentionally diving into his legs. Earlier in the game the same happened to Keisel who narrowly avoided injury. The league that supposedly cares so much about protecting player's safety voted against making these types of blocks illegal. The reason is simple. Offense baby! If protecting a player hurts offensive output, no changes will be made.

---
GRADES

HC Tomlin: Tomlin challenged the call on the Miller grab that was ruled incomplete in the first quarter. The play was close, and an overturn gets you 1st down near the redzone, so it was a fair use of a challenge. Tomlin's indecision to go for it on 4th down with 4 minutes left in game forced yet another wasted a timeout in a last possession sort of game. He did make the right call to go for it there however. If they fail at the conversion, they have 3 time outs left with the 2 minute warning, and are assured to get the ball back in a one score game. As the Steelers defense continues its downward spiral, you have to start to question Mike Tomlin's contributions to that side of the ball. The truly elite NFL head coaches are typically also elite coordinators on one side of the ball. Where are the tweaks he is making to patch up the pass defense? Thus far through 6 season we have seen him draft players better suited for his old Tampa 2 defense than the traditional Steelers 3-4. This season's defensive meltdown needs to bring some serious changes before next year. Tomlin has his guys, he should run his defense or get out of the way and let the Steelers draft Steelers type players. At any rate, Tomlin again took his team on the road and got beat in a game they should have won. When grading the performance on this game alone, simply look at the talent Tomlin had to work with compared to what is on the Raiders roster. He was simply out-coached. (Grade: D)
OC Haley: His game plan was to attack a depleted Oakland secondary, which was the prudent thing to do. Haley mixed in enough runs to keep the defense honest. Even though the run game was again atrocious, he didn't completely abandon it. It was a nice wrinkle to the painfully obvious "fake hurry up on 4th down" play where they ran a pick, I mean rub, to spring Mike Wallace free on a slant. A better pass there and he scores on that play. In the redzone, I think every Steelers fan now has Heath Miller's name in their brains as they break the huddle. Haley has developed nice use of the TEs thus far, as well as spreading the ball around to backs in the passing game. Haley has been handcuffed with a poor O-line and mediocre backs, yet has still managed to manufacture a huge TOP advantage and 27 points per game. On the downside, the team still isn't up to snuff on all of Haley's offensive formations which resulted in 10 men in the huddle twice and a few more wasted time outs and delay of game penalties. (Grade: A)
DC Lebeau: I give Lebeau a slight break because he has absolutely no young talent to work with on his unit and his two All-Pro defenders are out with injuries. That aside, Dick Lebeau looks senile. Or timid. Probably a mix of both is where the truth lies. Again Lebeau has nothing to offer to slow a passing attack. If his pass rushers don't beat their man and get to the QB, he's got nothing. He isn't doing a good job of mixing or disguising coverages, he isn't dialing up creative blitzes, and he isn't putting his players in position to be aggressive and create big plays. The defensive recipe consists of loads of vanilla mixed with cup of Metamucil. (Grade: F)
QB: Ben misfired on a few throws. He threw behind Sanders for incompletion, led Brown too far on deep catch down the sidelines that forced him out of bounds, was off on the slant pass to Wallace on 4th down. Wallace could have scored on a better throw there. He also blew a few throws on the opening drive of the second half. That said, Ben single handedly carried the Steelers today. He hit 10 different targets in the first half alone, threw 4 TD passes, nearly 400 yards, and never turned the ball over. Ben avoided pass rushes like only he can, moved the chains at a mind blowing high level on 3rd downs, and was clearly the best player on the field. (Grade: A)
RB: Another piss poor effort by this group. The longest run of the day was an 8 yard scamper by Ben Roethlisberger. Against one of the worst run defenses in the league the Steelers managed 18 carries for a measly 45 yards and a pathetic 2.5 YPC average. Isaac Redman looks very tentative at contact, and is not lowering the boom like he used to. On each of his receptions he shied away from contact from a corner and was stood up and pushed back. His injuries seem to be slowing him. Jon Dwyer did nothing aside from fumble the ball away to the Raiders. Baron Batch was good in pass protection and ran the ball hard for a couple of first downs. The major issue in the run game is the fact the Steelers backs are averaging a league low 0.7 yards before contact. The Dwyer fumble was a perfect illustration of this. Willie Colon fell down after tripping over his own feet while blocking nobody. Ramon Foster whiffed badly on his man and basically just turned his back to watch the play. Dwyer got hit as he took the hand off and immediately was stripped. A complete and utter failure by two incompetent guards. Aside from a few plays made by backs in the passing game, this group failed yet again. (Grade: D-)
WR/TE: Antonio Brown fumbled twice and Mike Wallace was stripped of the ball once as well. I don't care how many plays these guys made in the game, three fumbles by wide outs simply can't happen! That aside, Wallace and Brown combined for 15 catches on 22 targets for 210 yards and 2 scores. Brown's fumble ultimately cost the Steelers the game as it was apparent that the defense couldn't stop a JV team. Cotchery and Sanders each chipped in with some timely grabs, and Heath Miller was a reliable target all over the field. (Grade: B)
O-line: Penalties and Incompetence were again the name of the game. A false start on Foster followed up by a hold on Willie Colon on back to back plays killed good field position after Antonio Brown's return to midfield late in the first half. Had this series of errors not happened, the Steelers likely drive down the field and take a comfortable lead into the half. They opened the second half with false start on Kelvin Beachum, who was credited with 1 penalty before he had 1 official NFL snap. The old #68 would be proud! Beachum allowed multiple pressures and committed a penalty in only a handful of snaps on the field which was consistent with his preseason performance. I longed for the days of Jon Scott, almost. An illegal formation on Marcus Gilbert in the redzone along with Willie Colon again getting called for holding rounded out another shit effort for this group. The Colon penalty occurred on the 1st play after Raiders tied the game at 31. Instead of Ben having a 2nd and 1 and a favorable situation to move down the field for the winning score, he was forced into a 1st and 20. Sand apparently returned to the vagina of Marcus Gilbert as he limped about early on, then missed the opening of the 3rd quarter for a Massengil injection, and disappeared again late in the game. Max Starks had a quiet game, which is usually a good thing. Mediocre Maurkice, it's called a weight. Try picking one up. I'm tired of seeing DT's push you backwards and linebackers knock you on your ass in space. Pouncey can only be as good as the guards lining up next to him allow him to be, which is the real story for this unit. The two fat, immobile sloths that play guard for the Steelers absolutely suck. Neither can move, neither can pull, neither can blow their man off the ball. Worst of all, Willie Colon is a penalty machine at guard even more than he was at tackle. Again the line opened no holes in the run game against a poor opponent, created an anemic 2.5YPC, and committed a whopping 5 penalties! They only allowed 1 sack and a handful of pressures in 50 drop backs, but that was largely due to the Raiders complete lack of quality pass rushers and decision to drop into coverage more often than sending a blitz due to their secondary issues. (Grade: D-)

D-line: Again, the invisible corpse on the roster. Zero impact rushing the passer. No hits, hurries, or sacks. Hampton is done. He can't hold the point like he used to, and what use is a one dimensional nose tackle that isn't elite at his one skill? Keisel is also done. No impact as a pass rusher, and gets pushed around in the run game. He read and blew up an attempted screen on Raiders 2nd drive, and that was about it for him. The bearded one later foolishly jumped offsides on a 4th and 2 play where the Raiders were likely just trying to draw the offsides call. That cost the team 4 points and prompted Keisel to take blame for losing the game. Steve McClendon blew up a 2nd and goal run play where he pushed his man back, clogged the hole, and made the stop. Evander Hood isn't good enough to have a nickname. He did have one nice penetration and tackle in the backfield, but was otherwise invisible until he got his knee "blown up" on a chop block. Evander Hood is a never-was, and an underachiever. Cameron Heyward played relatively few snaps apparently and was kept off the stat sheet completely. That is exactly what this struggling defense needs from its 1st round pick from a year ago. He's basically a glorified Nick Eason at this point in his career. (Grade: F)
LB: Remember that nice play by a linebacker? Me either. One of the most historically great lineages in all of sports is linebacker for the Pittsburgh Steelers. This group doesn't deserves the right to have Steelers linebacker on their resumes. Lamarr Woodley wasn't awful. He netted a sack on a combo blitz with Foote where Lamarr took a chip block from a TE, spun out of it as the OT picked up Foote, and brought down Palmer for the loss on 3rd down. He had a few other pressures and tackles as well. Worilds and Carter got little to no pressure, no QB hits or sacks, and made zero impact from the Steelers glory ROLB position. Both were spotty in coverage as well. At this point, I have to question Lebeau's sanity not using Adrian Robinson as a situational pass rusher. The guy got good pressure all preseason. At least throw him in the rotation a bit to see if he sucks less that the other two. Timmons continues to steal a paycheck and Foote continued to maximize his extremely limited athletic ability. (Grade: D)
DB: With Carson Palmer's leading receiver out for the game (Troy Polamalu) Ryan Clark filled in nicely on the first snap of the game as Palmer tossed the rock right to him. That would prove to be the last impact play of the game made by the Steelers secondary. Keenan Lewis did show great hustle on the McFadden TD run, and nearly made tackle, but he is far away from being the Pro Bowl player he claimed to be before the season. And what the hell was Ryan Mundy doing on that play? What an a awful angle he took. Mundy was seen getting beat on practically every Raiders score. He's simply not an NFL caliber player. Ike Taylor was beat on a Denarius Moore TD catch. Denarius, Demayrius, doesn't matter. Ike can't cover either. Ryan Clark was quiet outside of his early INT. (Grade: D)
STs: Suisham had a shitty kick to open the game and another to open the second half. Each time the ball rolled down inside the 5 and was taken back beyond the 40. A double holding call on Steelers wiped out an Antonio Brown TD return. A massive flip in field position occurred there as Lechler outkicked his coverage, but the flag wiped out any shot at a return. That drive was followed by a total shank punt by Butler, again giving the Raiders life via an unwarranted field position advantage. Butler averaged nearly 16 fewer yards per punt than Lechler. That's significant! The Steelers added a facemask penalty on another kick return. They also appeared to be completely unprepared for the onside kick attempt after the Raiders cut lead to 24-21. I'd consider firing the ST's coordinator.... Oh, wait they already did that. Suisham making his kicks and the coverage units not allowing any return TDs were they only things saving this unit from an failing grade. (Grade: D-)
Refs: Again indecisive on calls and took too long to get their calls together and spot the ball. For the most part, the correct calls were made on the field or corrected with replay. Ben was hit late once in 1st half, and hit low in the legs and late on the opening drive of 2nd half. No flags were thrown on either play. A horribly long delay after the Raiders onside attempt went out of bounds. They wasted 4 minutes of real time after they made the call on the field, then went to TV timeout which wasted a total of 6 minutes and 32 seconds of my day. (Grade: C-)

---
AWARDS

Men of Steel: Ben Roethlisberger, Heath Miller & Mike Wallace played outstanding games. In a season that has shown the Steelers serious lack of young talent and play making ability on the defensive side of the ball, Roethlisberger and Mike Wallace have been the consistent bright spots. Roethlisberger's 4 TD, 384 yard, 123 QB rating effort was wasted, as was Wallace's 8 catch- 123 yard - 1 TD afternoon. Heath Miller is simply a reliable chain mover and redzone target. His 8 catches netted 2 scores and moved the chains on a handful of other occasions. Don't let the disappointment of this unacceptable loss gloss over how well the passing game worked. Congrats to Ben, Mike, and Heath for earning our SteelerFury Players of the Week!

Tits on a Bull: Ryan Mundy and Willie Colon were simply worthless. Mundy allowed TD run by blowing tackle attempt, gave up another score on a passing play just before half, let Darren McFadden slide off his arm tackle attempt on his TD run which was overturned by replay, then made sure he let Raiders score as he let a TE run right in front of him for an easy TD catch on 3rd down. Mundy made zero impact plays aside from injuring DHB on the helmet to helmet hit. Hopefully the league suspends Mundy for that hit so we don't have to see him next game out. Robert Golden showed promise in preseason. What can it hurt to play him?
Tits on a Greybull: Brett Keisel. He's done. And dumb. A complete idiotic move to jump offsides on a 4th and 2 play where the Raiders were likely never going to snap the ball.

---
FINAL WORD
Looking at the schedule after it came out, the early season goal was clearly a 2-1 start given the early season injuries and suspension we knew this team would be dealing with. The loss at Oakland puts the Steelers in a tough spot. They have two games in five days after the break, a full divisional schedule, and 4 games against the always tough NFC West to complete without a week off. If you weren't depressed enough after this loss, or the Ravens win, be sure to look for my 'Steelers 2013 Salary Cap Outlook' article that will be released during the bye week. Long story short, cuts need to be made to get under the cap and retaining either Wallace or Mendenhall will be a stretch.