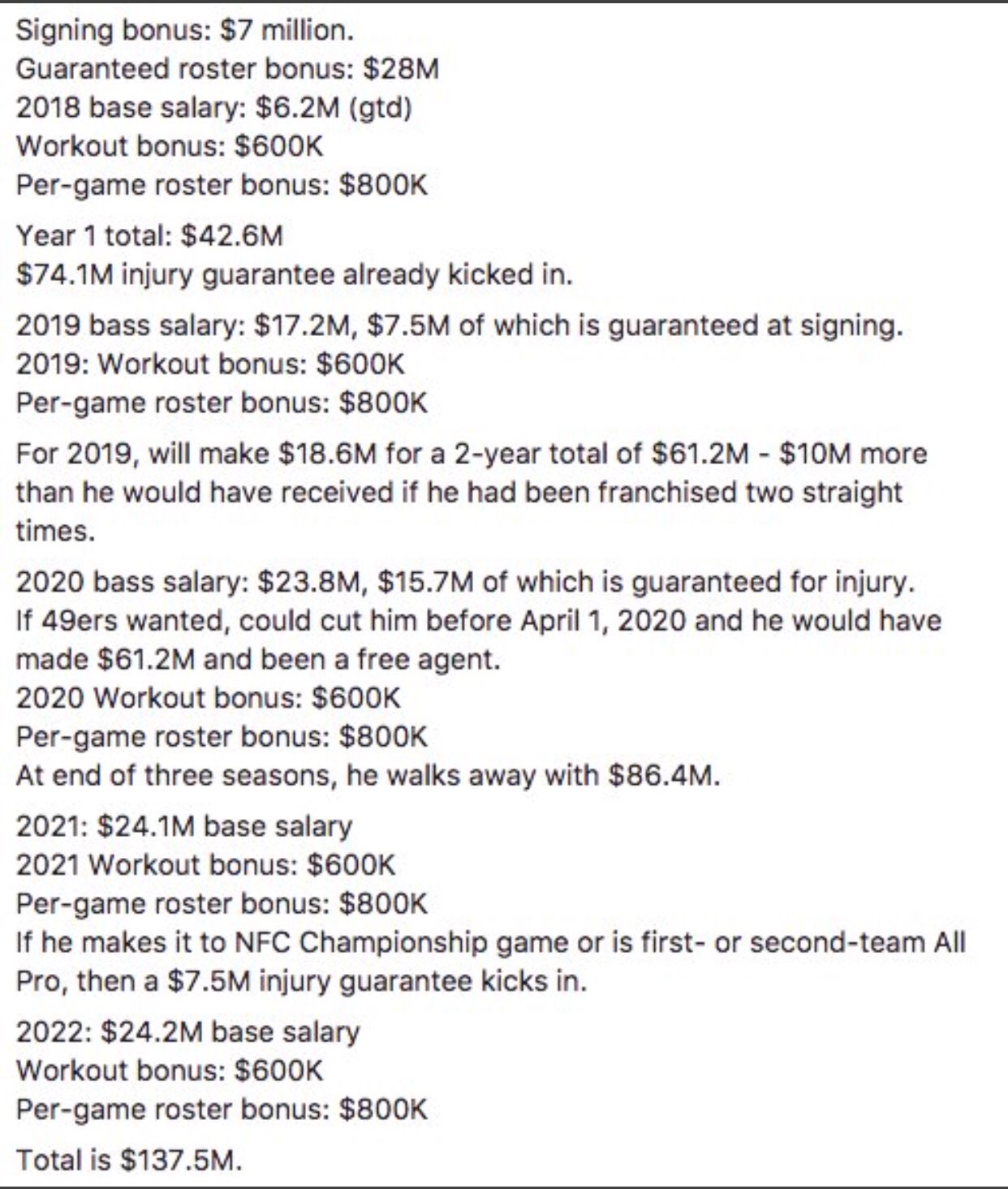 Jimmy G gets $48.7 million fully guaranteed at signing
Posted by Mike Florio on February 9, 2018, 2:09 PM EST
Getty Images
The numbers are out regarding the Jimmy Garoppolo. They appear below, along with a full analysis of the terms and the deal.
1. $7 million signing bonus.
On a five-year deal, the low bonus results in a cap charge of only $1.4 million per year.
2. $28 million fully-guaranteed roster bonus.
For a cap-rich team like the 49ers, this device gives Garoppolo a bunch of money at signing, and chews up all of the cap space immediately, with no proration.
3. 2018 base salary of $6.2 million, fully guaranteed at signing.
The first-year salary in any long-term deal is almost always guaranteed as a practical matter; who's going to cut the guy the same year they signed him?
4. 2019 base salary of $17.2 million guaranteed for injury at signing, $7.5 million of which is fully guaranteed at signing.
While the breakdown from Adam Schefter of ESPN.com isn't entirely clear on this point, it appears that the full guarantee vests on April 1, a late (relatively speaking) deadline. The 49ers used the same device in the Colin Kaepernick deal, giving them an extended chance to make a decision about whether to continue the deal.
5. 2020 base salary of $23.8 million, $15.7 million of which is guaranteed for injury at signing.
Injury guarantees often are meaningless, but in the event of a serious injury, it's essentially a free insurance policy. The 2020 injury guarantee apparently becomes a full guarantee on April 1, giving the 49ers some flexibility in determining whether to keep him.
6. 2021 base salary of $24.1 million and 2022 base salary of $24.2 million.
These are non-guaranteed amounts and, essentially, club options for the final two years of the deal.
7. Workout bonuses of $600,000 for 2018 through 2022. (Total value: $3.2 million.)
Garoppolo undoubtedly will meet the annual participation threshold and earn these amounts every year.
8. Per-game roster bonuses of $800,000 for 2018 through 2022. (Total value: $3.2 million.)
While many assume that per-game roster bonuses are money in the bank, an injury can be costly, as Aaron Rodgers learned in 2017. For Garoppolo, every game includes $50,000 that he receives only if he suits up.
9. Further injury guarantee of $7.5 million.
The breakdown from Schefter explains that a $7.5 million injury guarantee applied if Garoppolo "makes it to NFC Championship game or is first- or second-team All Pro." It's unclear whether this applies only to the 2021 season or other years of the deal, and there's no mention of the year(s) in which the incentive applies.
10. The cash flow is $46.2 million through 2018, $61.2 million through 2019, $86.4 million through 2020, $111.9 million through 2021, and $137.5 million through 2022.
Schefter claims that the $61.2 million through two years represents a $10 million bump over what Garoppolo would have made under the franchise tag through 2019. That's accurate only if the 49ers would have used the non-exclusive tag; if they would have applied the exclusive version of the tag (cutting off another team's ability to sign him away in exchange for two first-round picks), the gap would have been more like $5 million.
Schefter also says that, after three seasons, Garoppolo "walks away" with $86.4 million. While he'll indeed make that much over three years (roughly $4 million less than three years of the non-exclusive tag and more than $10 million less than three years of the exclusive tag), Garoppolo won't be walking away. The 49ers will still hold his rights for two years and $48.3 million — an average of $24.15 million per year. By then, the market for franchise quarterbacks should be well north of $30 million.
For a guy who didn't get a big-money rookie deal and who has started only seven games, it makes sense to cash in. Still, he could have ultimately done better by forcing two or three years of the tag, especially since 2021 and 2022 would have been the first two years of a market-value contract, not the below-market back end of a five-year deal.
That said, it's easier for a player who already has banked millions to take that risk. For Garoppolo, a second-round pick in 2014, the safe move arguable was to take the large bird in the hand in lieu of the slightly larger bird in the bush. This dynamic actually makes the willingness of Kirk Cousins to play tag in two straight years even more impressive, given that he entered the league as a fourth-round pick. Two years and $44 million later, he'll either hit the market unfettered or make $34.47 million if Washington is dumb enough to tag him again.